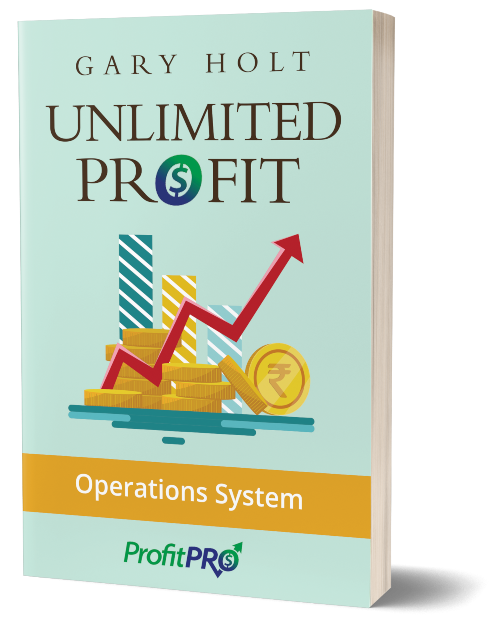 The Profit Pro Operations Management System
Think of an operations system like a playbook. For employees to run a business successfully, it needs a playbook that outlines the expectations of every individual on the team at every single moment of the game. Usually, this is the only practical way to ensure lifelong success for your business.
Without an operating system, your business is sure to be dealing with team conflicts, miscommunication, and individual agendas that derail the success of your organization. As a result, you will experience frustration, wasted time and energy, lower financial returns, and loss of your best employees.
The Profit Pro Operations system will help you get every employee to read on the same page and work towards the same goals. Processes, accountability, and expectations are defined so that everybody is in sync and working together like a well-oiled machine.
Some more reasons to invest in a reliable business operations system
There are many reasons and just as many benefits for having established and documented systems in your business, some of which include the following:
They provide a template or framework for your operations and an effective structure to support your business.
They improve consistency: production, delivery, customer service, after-sales care, etc.
They improve results and productivity because you and your employees don't have to re-invent the wheel every time.
They provide a better work environment for your employees, as an effective system will contribute to clarifying roles and responsibilities as well as providing staff with some guidelines to refer to.
They ensure compliance with legislation, safety regulations, or any other legal requirement specific to your type of business operations.
They give your business the ability to expand, and they facilitate business growth, as they will make your business more attractive to any potential investor or buyer.
Choosing operating systems that work for you
Any operations management system will need to integrate the company's business objectives, its people, and the way it provides its products or services. In other words, It is crucial to have a well-designed system customized to your type of operation and thought out by people at all levels.
All employees will likely follow such business systems because they have been involved in its design, and they understand the quality it brings to their work and the service they provide to customers.
Great operating systems make all the difference!
Looking to learn more about services or how you can enhance your operations and profitability with the business systems we offer at Profit Pro business? Just fill out your information on the right side of this page.