This is a guest blog post written by Andrea Hewett, Social Media Business Director 
for Holt Marketing and Management Services, Inc.

Lately, we have been enjoying certain successes with our blog posts and we couldn't be more pleased. However, with success comes certain pain points, such as spammers targeting your blog and trying to glom onto your audience to get them to buy their goods or services, or simply click on their affiliate links.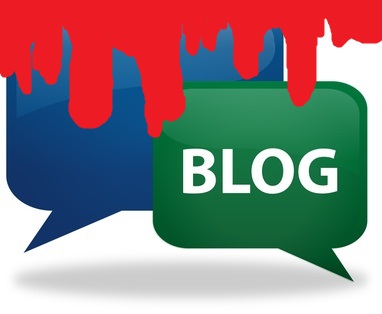 We've received a few of these in the past, but lately we've been inundated with them. Fortunately, we have a system in place in which comments have to be approved before they are actually posted so we can save our readers the annoyance of actually clicking on these spam offers/websites.
I highly recommend having your comment section set up to only publish comments once you have approved them.
What if they were sincere comments but didn't know proper comment etiquette?
At first, I tried to contact the commenters to notify them that we would be happy to approve their comments if they wanted to repost them without website links in the body of the comment. But my emails bounced back… apparently the email addresses they posted were as fake as the comments.
How can you tell the comments are fake?
Of course I'm not comfortable with alienating our readers that have taken the time to post comments to our website, whether they are aware of blog commenting etiquette or not. Although, there are plenty of blog posts about the proper etiquette for posting comments so it really shouldn't be ignored. In fact, here are two of my favorites:
and
Despite this, I want to be sure that the real comments get through, so I open every single email notification to peruse the comment.
How I recognized these as spam comments:
The comment had NOTHING to do with the content of the post.
While complimentary to our blog, website design, writing style, etc., they are overly promotional to their own site.
They sound very similar to each other.
That's right, I started to notice that the comments seemed to be very similar to each other. While there were many different comments, they all had a similar feel to them.
That's when I discovered this gem…
I received a comment, a very long comment, that contained not one, but a long list of templates for commenting. Someone is obviously making some good money selling these templates to what appears to be a large number of people overseas. I only say this because some of the email addresses given are foreign and some of the English in the comments left is not so good.
Since the whole point of commenting on blogs is to share your views on the material that the blogger took a lot of time and effort to write, I find it completely distasteful that someone is selling templates for comments.
So I decided to take action.
I am sharing the ENTIRE list of commenting templates that was left on our blog so you can recognize and avoid these spam messages on your own blog.
These comments can kill productivity so I feel it is only fair to give you a heads up before you waste your time trying to email commenters and check links. Not only that, but if I can help you avoid posting these comments to your own site, to the dismay of your readers, then the experience will have been worth it.
Here is the link to download the list of templates. I don't want to post the actual verbiage in our blog in case it is duplicate content or detrimental to the quality of our posts in some other way. It is long (8 pages!), but if you become familiar with a line or two from each, it should give you an idea of what to look out for:
The Most Annoying Spam Comments You Never Want to Receive
This link just takes you to a pdf document that you can print out for reference.
We do not require you to submit an email address or pay for this document… we don't want you to use it to post comments from either (they won't get you anywhere on any worthwhile sites anyway)! It's just our way of helping you to be aware of what to watch out for.
Use this knowledge wisely!
One last thing: be preemptive. The best method to avoid spam comments is to clearly state on your website that you do not publish comments that are self-promotional and don't add value to your site.
If you like what you've read, please subscribe for updates to better your business: