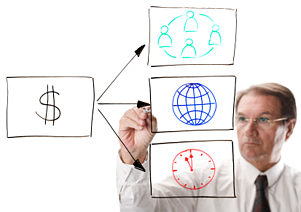 Why all organizations need to develop strategies that increase productivity faster than before?
Despite all the job losses and organization closings, the U.S. remains the most productive country in the world. Once again, productivity is the essential method to grow organizations into the future. Companies need to drive substantial and ongoing productivity gains, just to stay even. They also need to control costs while delivering higher quality, more specialized services, and products faster. To be an effective leader, you have to become more familiar with the strategic use and implementation of technology to achieve goals.  The problems leaders face include:
Increasing insurance costs
Increasing energy costs.
Increasing payroll costs.
Increasing equipment costs.
Difficulty increasing revenue to pay for additional needs and growing costs
Difficulty obtaining credit
The urgent need for productivity gains is like never seen before. Productivity gains have been caused by internet enabled operations and efficiency programs. These trends remove waste and unnecessary steps, but the gains are now only incremental. It's important for leaders to understand that these strategies alone won't be enough.
By investing in indicator tools and programs that increase effectiveness of established communications, organizations can tap into a flow of feedback and dialogue.  This information flow will reveal gaps that can be closed with process technologies. Based on research, we suspect that these areas will be where most organizations find problems:
Time to get work done. Speed continues to be a proven strategy to improve results in all areas.
Lower costs/higher quality.  Research has shown that costs have increased or stayed the same in the past two years.  Driving down costs while delivering better service will require investments in technology, especially in process control.
For more information:
Holt has been helping organizations to increase productivity and growth for over 25 years. Our solutions can leverage organizations to accomplish more by performing critical tasks faster, improve quality of work, and provide a method for constant improvement.
For more information, go to www.marketingholt.com.